I come from a long line of talented cooks. My great grandmother Mercedes, an Italian-Mexican from Campeche married Isaac, a Sephardic Jewish man who arrived to Mexico from Turkey, via France. His first order of business upon settling in Mexico City was to find the best cook in the Colonia Roma and to train her as his personal chef. (I believe Isaac Saul was the first official foodie, ever.) After marrying Isaac, Meche took her own family's culinary skill to another level, learning from their cook and pleasing her husband's mediterranean palate.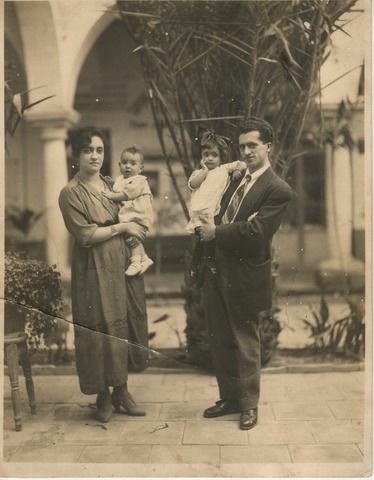 Many years later, Meche started a business and had up to 5 cooks working for her, creating dishes which celebrated authentic Mexican cuisine- the marriage of Old World recipes with New World ingredients and techniques- along with the Turkish influences of her husband.
The eldest of Isaac's and Meche's four children, was my abuelita, Lily. She worked alongside her mother and the kitchen workers from a very young age and became a masterful chef. Her insatiable curiosity and sense of adventure allowed her to be a student for life- surprising us with her creations even after she turned 90. She has always been my personal Julia Childs and my greatest influence in and outside of the kitchen.
Lily's daughter, Esther, married a Polish-American man and moved to Cleveland. Previously, my mother had not spent much time in the kitchen and worked at a bank. Cooking for my father became a crash course in yet another version of our family's fusion cuisine. A quick study with a genetically loaded palate, my mother makes, in my opinion, the best Polish food, as well as an extensive menu of international favorites.
When I read the book and saw the movie, Like Water for Chocolate, I was immediately reminded of our family in Mexico City. Even though we did not reside in a hacienda in rural Mexico, the building's rooftops housed game birds, the markets offered abundant gardens and the kitchen was as deliciously rustic and as busy as Tita's cocina. My sisters and I continue these traditions, designating special occasions "just because it is a Tuesday or Wednesday," so we may showcase the latest harvest, the newest recipe or culinary experiment. It may seem outrageously old fashioned, but it's been among the greatest gifts we share with our children.
I hope you will enjoy these menu ideas, many of which feature our delicious extra virgin olive oil, along with the occasional anecdote about the recipe's origin.
PROVECHO!
First up: Shrimp cocktail a la Campechana (estilo Reyes):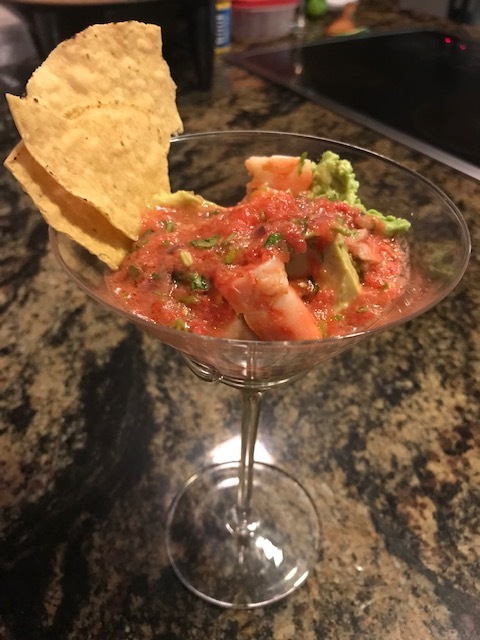 On the highway between Guanajuato and Silao, there is a bend in the road where one can park their car and stand in line for the best shrimp cocktail ever, prepared by Reyes, dressed in bright white shirt and pants, a captain's hat and moving rhythmically to the Jarocha music from his radio. He would always wait until 6-10 people were in line so he could fill the malt sized glasses, in assembly line fashion, with his perfectly proportioned ingredients. Accompanied by a simple saltine cracker and a beer, this easily became a ritualistic part of weekly errands when I worked in Guanajuato from 1983-1985.
Begin with fresh uncooked, unpeeled shrimp- 3/person for cocktail, 4-6/for lunch or larger first course
Place the shrimp in a pot less than half full of boiling water, some salt and herbs (parsley, cilantro, half bay leaf, optional.) Boil for 5 minutes, drain, peel and chill with a light coat of extra virgin olive oil.
Cut the shrimp into thirds
Deflame finely minced white onion in salt and lime juice. (Just 5-10 minutes) Use a heaping tablespoon for every 4 servings.
Add minced serrano pepper to the mixture.
Mix 1/2 cup of tomato juice with 1/2 cup of orange juice, a dash of salt and splashes of tobasco or cholula
Combine the liquid ingredients with the onion, and serrano; add a heaping Tablespoon of finely chopped cilantro.
Layer a few pieces of shrimp and small chunks of avocado and generously sprinkle with the juice. Continuing layering to the top of your prettiest margarita glasses. Pour the rest of the juice on top of each cocktail.
Squeeze extra lime juice over each, followed by a hefty Tablespoon full of olive oil. Our finishing oil, Pendolino, works best; but this also delicious with the super peppery Coratina olive oil.
Peruvian inspired Causas:
These are also fabulous for a light lunch by themselves, or as an early early dish in a multicourse supper.
The key to a causa is to take any colorful cooked potato, chill and mash it with lemon, olive oil and aji pepper, to be used to wrap or layer meat, seafood and/or egg.
For this causa, I prepared two different potato mixtures- Yukon gold and Purple, which can be furthered embellished with a red pepper puree. I also used different olive oils and added varying amounts of pureed roasted garlic and lemon to create slightly different flavors between each potato layer.
I placed parchment paper into ramekins so that the causas could be easily removed at the time of serving.
One can also take PVC tubing and create taller and thinner causas for more drama!
First, a layer of potato (I chose purple), followed by thinly sliced avocado for the next layer and thinly sliced salmon I had just grilled and cooled. Be sure to place the attractive smooth edges of the fish against the side of the ramekin so these will create a more lovely exterior surface to the mold. A red aji sauce in dots along the edges further enhances the edging. And finally, the golden potato to completely fill the ramekin. Chill for a couple of hours.
Just before serving, I quickly bread gorgeous giant shrimp our monger gets from the Sea of Cortez. I place one on top of each causa and garnish with olives, pimentos and parsley.
---
More ideas: