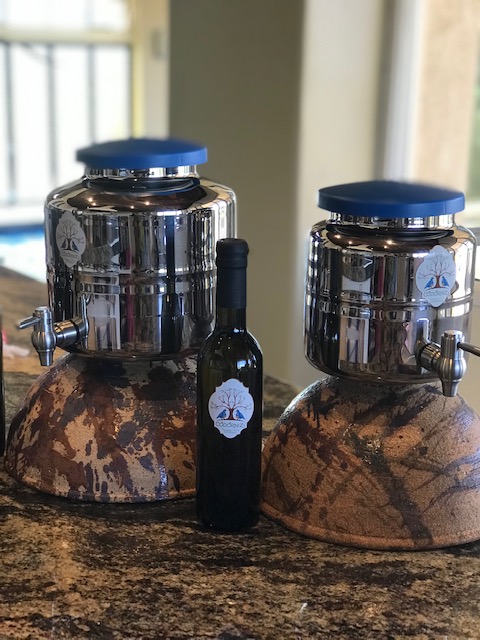 Thank you for your interest in our award winning estate grown olive oil.
This year, we decided to submit our olive oil for competition. We entered three different types to both the California State Fair and to the California Olive Oil Council.
Since we have begun making olive oil, our Pendolino olives, pressed alone, have been our favorite. We were delighted that the judges agreed, as this extra virgin olive oil won gold medals in the robust category of both competitions. It is fruity and yet has a strong green peppery finish. It is an excellent finishing oil.
Coratina has among the highest polyphenol levels possible. (Ours is 550/650) This confers high anti-oxidant properties to the oil. It is very green and packs a delicious punch. This varietal won silver medal in the robust category of both competitions.
The Field Blend combines approximately 40% Frantoio, 40% Coratina and 20% Pendolino, for a very accessible green and creamy olive oil. This oil won a silver medal in both competitions in the category of moderately robust. My sisters and I use this oil liberally in any recipe calling for olive oil or as a substitute for butter. For example, roasted sun choke and wilted spinach salad. The lemon notes add an unexpected, yet nonintrusive, layer to flavor. (Check out other menu ideas from Al Pie del Cielo kitchen in our recipes tab.)
We have just begun to sell our extra virgin olive oil in plastic carton shipping boxes which hold 2.5 Liters. We will fill them only at the time of order. Our olive oil is priced as follows:
---
New Olive Oil Products & New Pricing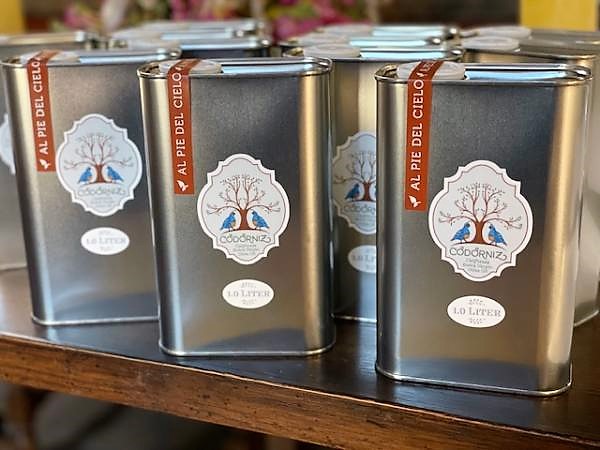 One Liter of EVOO in Italian tins:
Coratina EVOO 2021 (2 silver medals) robust
And small quantity left.
Pendolino EVOO 2021 (no medals)
Field blend EVOO (2 silver medals)
SPECIAL DEAL:
Field blend EVOO 2020 -
Silver medal, medium x 2
NEW Gift set: Extra Virgin Olive Oil Tasting Collection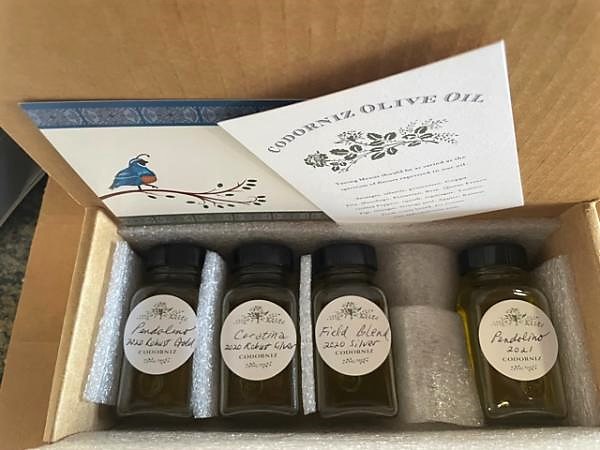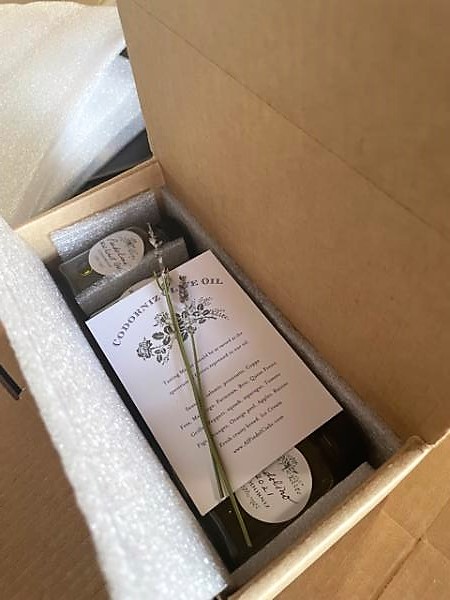 ---
Standard & Discounted Olive Oil Products
Field Blend EVOO, 2 silver medals: NOW 50% off
2.5 L at $160, NOW $80
5.0 L at $290 (best value) NOW $145
Coratina EVOO - high phenols, 2 silver medals:
2.5L at $165
5.0 L $295 (best value)
Pendolino EVOO, 2 gold medals
Higher volumes are available upon request.
---
Olive Oil Containers

We also offer stainless steel fusti for convenient storage. These come with a charming durable spigot for decanting the oil into cruets, bottles or measuring cups.
Olive Oil Fusti
2.5 L at $80
5.0 L at $99
We can ship one bag filled with our olive oil inside the 2.5 L amphorae; or two bags in the 5L. Future purchases of our olive oil will then be shipped similarly, but in cartons.
We are selling a small quantity of remaining bottles (750 and 375 mL volumes) from previous harvest at a 50% discount.
To order contact us at info@alpiedelcielo.com